Free budget planner for your wedding
Create a free weddingpage and share it with your guests. You can share your history and stories, images and other interesting information for your guests. Plan your wedding costs with the Budget calculator von traumhochzeit.cc. You can plan your costs and incomes, and export the data to a PDF document to have it with you at all times.
---
3 simple steps to your free wedding homepage
Win a travel voucher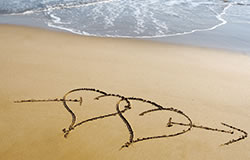 Be one of the first 100 registered couples!
Win one of three travel vouchers for two people each!
---
Your Traumhochzeit.cc
The time of your engagement is exiting. You experience many impressions and gather uncountable memories. Of course you want to share those memories with your beloved ones. At the same time you are very busy preparing your most memorable day of your life. We came up with something special. A personal homepage for your wedding where you can share galleries, timelines, stories and much more.
Register now, create your personal homepage and organize your deam wedding online!